Find a solution | Implant
What is an Inflatable Penile Implant?
The Titan® inflatable penile implant is a self-contained, fluid-filled system made from silicone and Bioflex®, a supple yet durable material. There are three parts to the system, connected by silicone tubing1.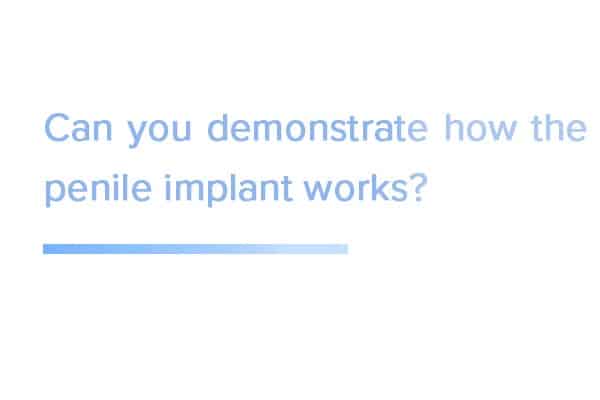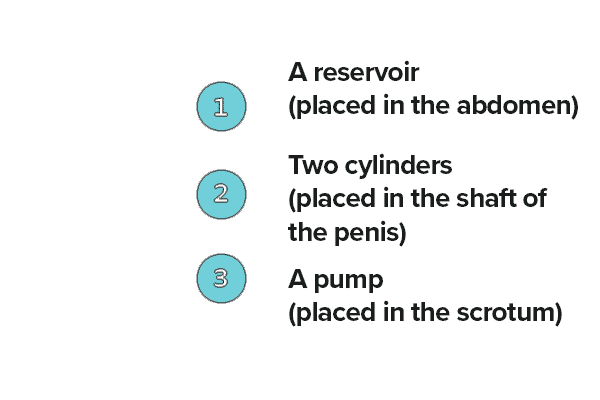 How Does the Titan Inflatable Penile Implant Work?
The inflatable penile implant consists of inflating the cylinders by squeezing the pump in the scrotum. You can control the firmness, by pumping until you are satisfied with the erection. When finished, you press the deflate button, and the fluid in the cylinders return to the reservoir, thus deflating the penis.
• Easy to use and activate
• One-step deflation
• Not visibly noticeable when flaccid
• Acts and feels more like a natural erection
• Maximizes the girth of the penis
"The Coloplast Titan® has brought intimacy and spontaneity back to our love life. It was lost with the pills, pumps, and injections, which all made it too mechanical and more of a chore than an expression of our love for each other." – Raymond*
How to Activate the Penile Implant and Achieve an Erection?
To transfer the fluid to the cylinders, locate the pump in the scrotum. Squeeze the pump firmly a few times between the thumb and fingers until an erection is achieved.
How Does a Penile Implant Deflate and Return to a Flaccid State?
Fluid pressure in the cylinders is released when you momentarily depress the deflate valve button to enable fluid to return to the reservoir, thus returning the penis to the flaccid state.
Read more about the other solution: the Flexible Penile Implant
Important Risk Information
A penile implant requires surgery. Risks of surgery may include but are not limited to complications such as infection, swelling, pain and discomfort. Once implanted, there may be a chance of infection, erosion, product migration or device malfunction which may require additional surgery. Your physician will provide complete risk information for your situation.
References
1: Coloplast Titan®, Titan ® OTR and Titan® Touch Inflatable Penile Prosthesis Instructions for Use. Coloplast Corp. 2016.
Article and videos Erectile Dysfunction Solutions
View more